Be part of this unique experience of discovering the amazing country of Uganda, as-well as taking part in an adventure by using your skills to transform the lives of children who are living on the streets and in an orphanage. This will also include  supporting wildlife conservation, in particular, chimpanzees  (our closest relatives). You will be joining our team in Uganda to inspire children who may have social and emotional disadvantages due to their experiences in life.
This project will be working alongside the orphanage and wildlife sanctuaries to support the children through wildlife and primate communication activities. You will also be supporting children through the making of cooking tools called Briquettes which will be helping wildlife habitats and provision of life skills to the children.
We have 3 main issues that we need to address and link together to make this project successful:
– Emotional and social support for children living on the streets and in orphanages
– Wildlife conservation issues which are current in Uganda and around the world
– The children's growing need for gaining important life skills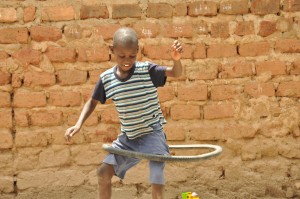 Are you creative?
We encourage the children to be creative with all of the activities that they are doing. We use art, play and music activities, (usually associated with wildlife and the feelings of chimpanzees) to address their emotional and social issues. This can cover a very large area of subjects and there is no limit to the amount of creativity that is explored.
The conservation issues are built into the creative communication activities, allowing the children to learn about the long term challenges to primates and other wildlife at the same time as being able to address their feelings and emotions.
Gaining good and solid life skills is paramount for these children and by supporting them to make cooking tools which they can then sell and use themselves, will also support the conservation aspect of what they are making.  The educational benefits that this may have on them can then be used to better their life and can also be passed onto others.
The project is based in Entebbe, in Uganda.
For more information on this amazing, rewarding and intriguing experience then download our project guide.
Dates: 6th-20th April 2014
Costs: £520 GPB which includes food and accommodation but DOES NOT include flights.