On 8th May, Yebo were invited to visit a siblings group from Noahs Ark Children's hospice in Islington, London.  Our primate day for children consisted of our film about different primates in the world, which is geared at younger children.  The group of siblings we had were aged 4-10 years.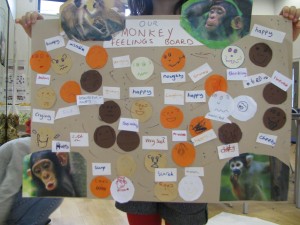 The film showed primates lives, the way they lived with their family groups, and how their expressions of feelings often mirrored ours.  Some of the images of monkeys with disabilities were also shown to them.  The children may have brothers or sisters who have a disability so may be able to relate to this.
The aim of the day was to discover feelings and to work together with their friends., learning about communication.
We let the children take part in various activities such as making a monkey feelings board, where the younger children drew out various emotions such as happy, laughing, sad, angry etc on monkey faces and stuck them onto a board.  The children were able to take this back with them.
We also took part in activities with the children where primate puppets, using cardboard and furry material, were made to allow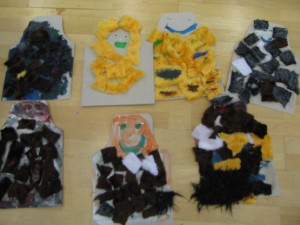 the children to create their own primate with their own expression.
The children also appeared to enjoy using the Yebo primate communication board, where they stuck on different faces of expression onto the primates on the board.  As they did this the children made up stories of what was happening to the primates to cause them to have the expressions that they were changing around on the faces, which are interchangeable with velcro  backs.
The children then took part in some wildlife computer games which they appeared to enjoy and became excited when taking part in them.
The siblings days for Noahs Ark are run by Laura Harrison, family support and siblings worker.